Beautiful Barn Renovation in Piddle Valley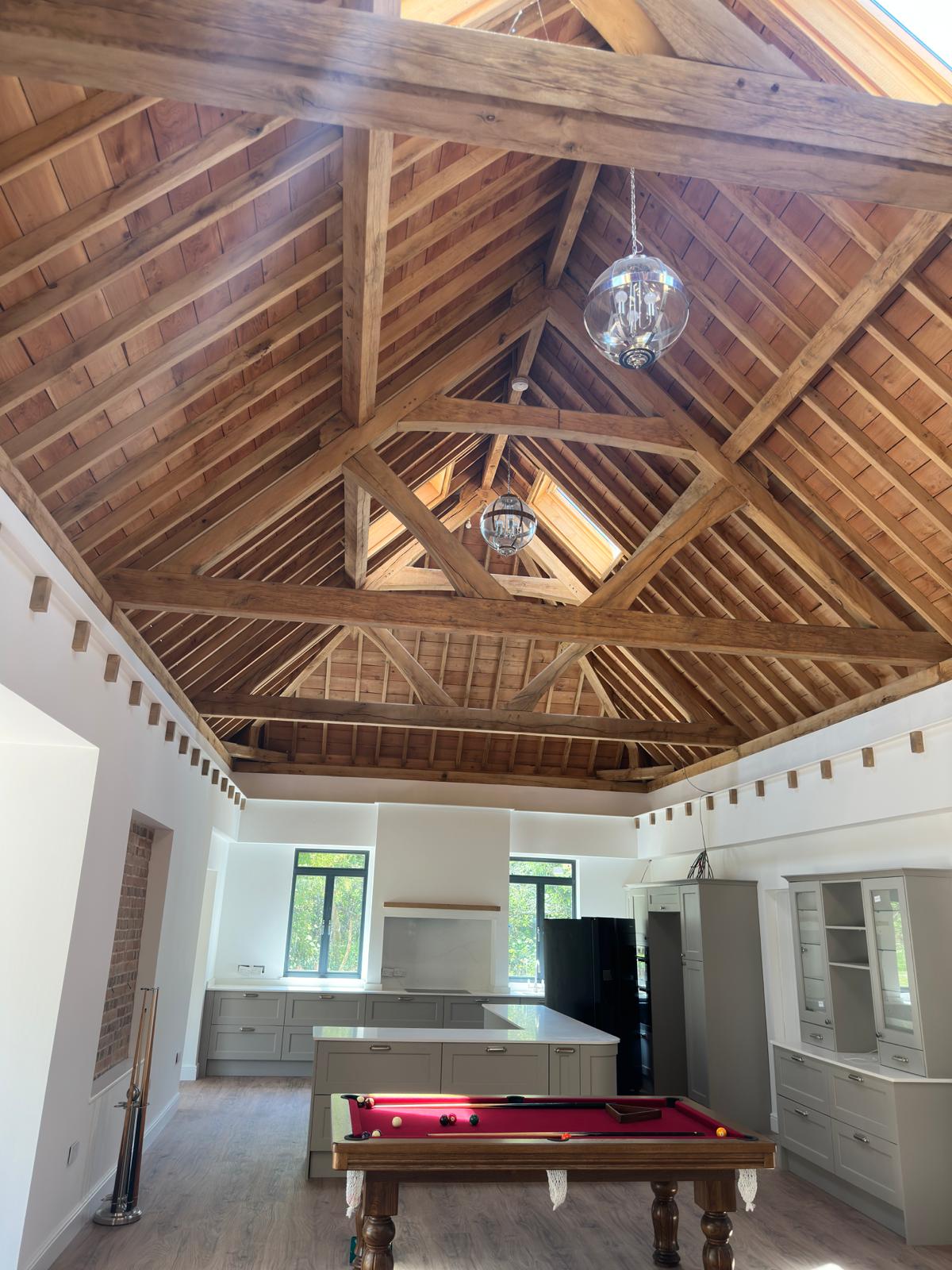 In the heart of the stunning Piddle Valley, Huw Jones has transformed a dilapidated barn into a stunning family home. Oakmasters has worked with Huw for over two years, providing a bespoke roof, mezzanine floor, and statement entranceway for this enchanting period property. 
The story begins when Huw Jones began restoring the roof of a rundown barn in this beautiful corner of Dorchester. The size and complexity of the job saw Huw go out to tender, with Oakmasters successfully securing the job. "The quote I received from Oakmasters was highly competitive," said Huw. "More impressive was the professionalism of the team and their commitment to quality."
The complex roof structure required multiple visits from Oakmasters staff, who took precision measurements to inform the final design. During the visit, Oakmasters experts guided improvements Huw could make to the structure. "Val and the team provided me with novel solutions to bring out the character of the property and the beauty of the roof," Huw said. "They were also conscientious and identified several ways we could save money on the construction."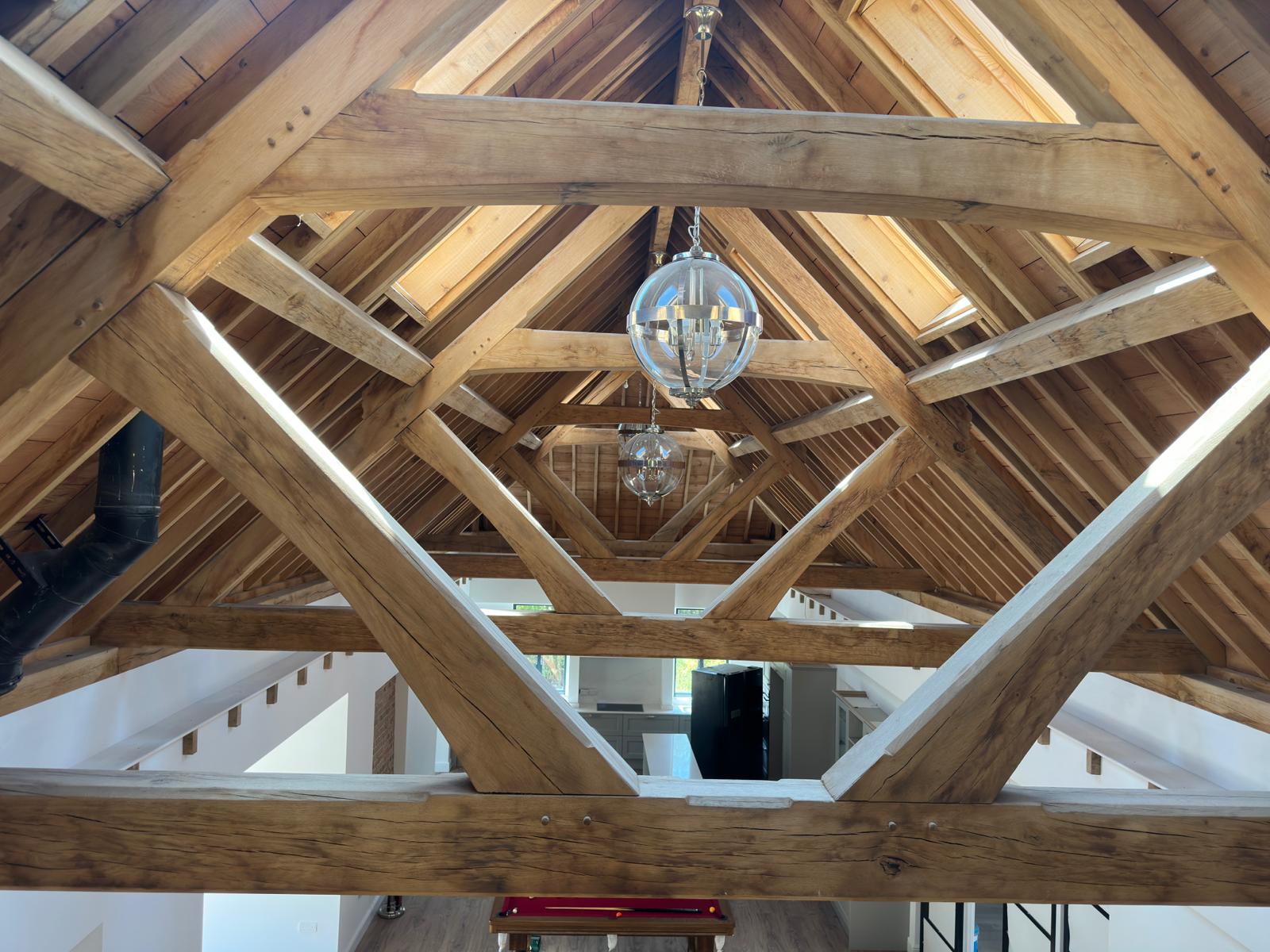 The final design comprised over 300 pieces of precision-cut oak. A competent craftsperson, Huw, his son, and several friends were able to erect the roof in a day, with the structure soon made watertight afterwards. The finish is exceptional, using historic methods to provide a classic and contemporary feel to the building. "It's a very traditional roof design that most people won't use because of the cost," said Huw. "The advice and engagement I received helped me get the results I wanted."
Impressed with the work, Huw commissioned Oakmasters to create a mezzanine floor for the barn. "Everything arrived as expected, with each piece milled to millimetre," he said. "It was perfection and took little time for us to assemble." The mezzanine is now accessible by a stunning spiral staircase that provides a statement for this historic home.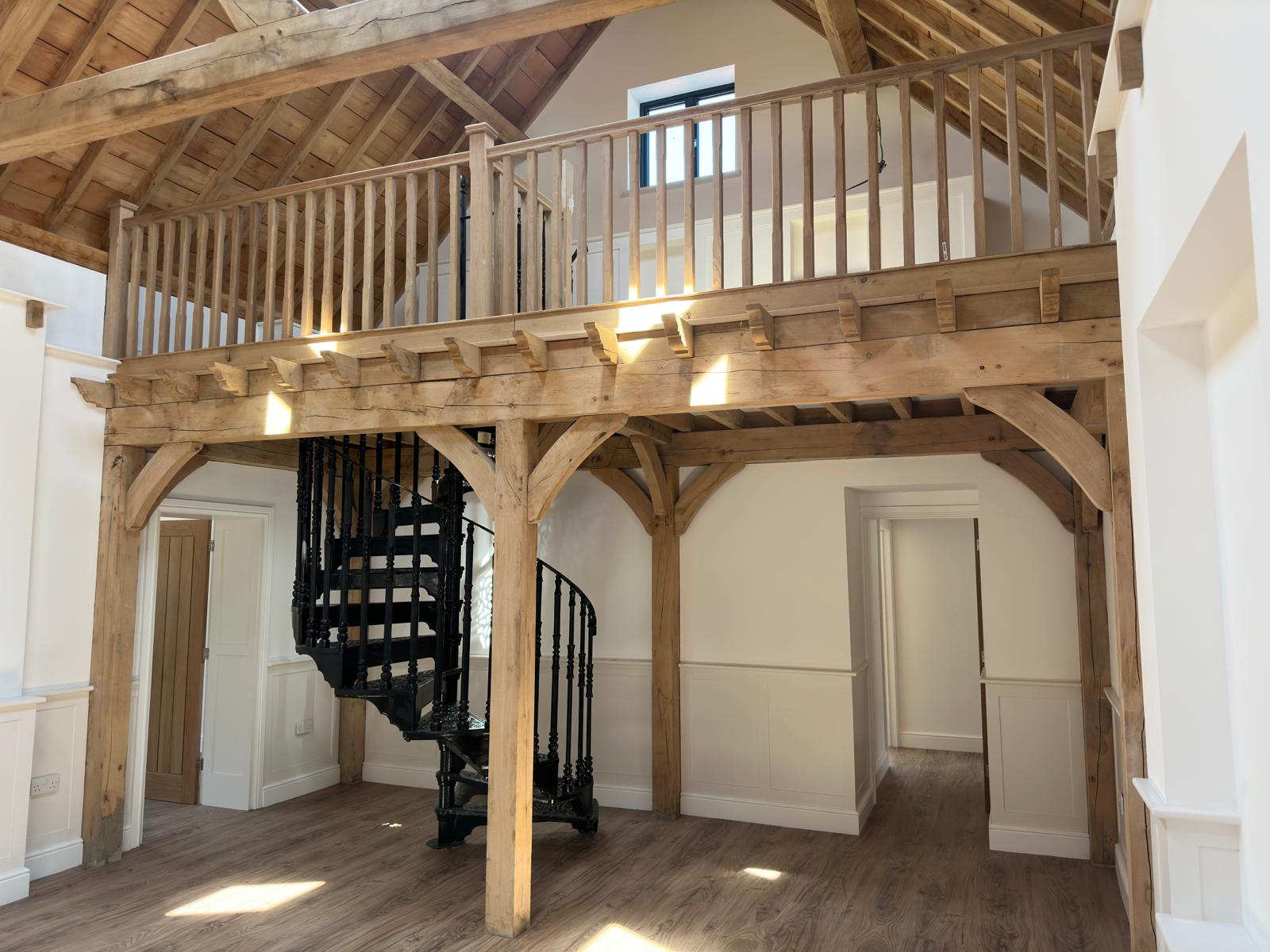 Huw wasn't finished and engaged Oakmasters to help produce an entranceway and provide timber for a large outbuilding. The long-term project saw Huw, Val, and the Oakmasters team develop a strong relationship. "Val now describes the house as 'his baby'", said Huw.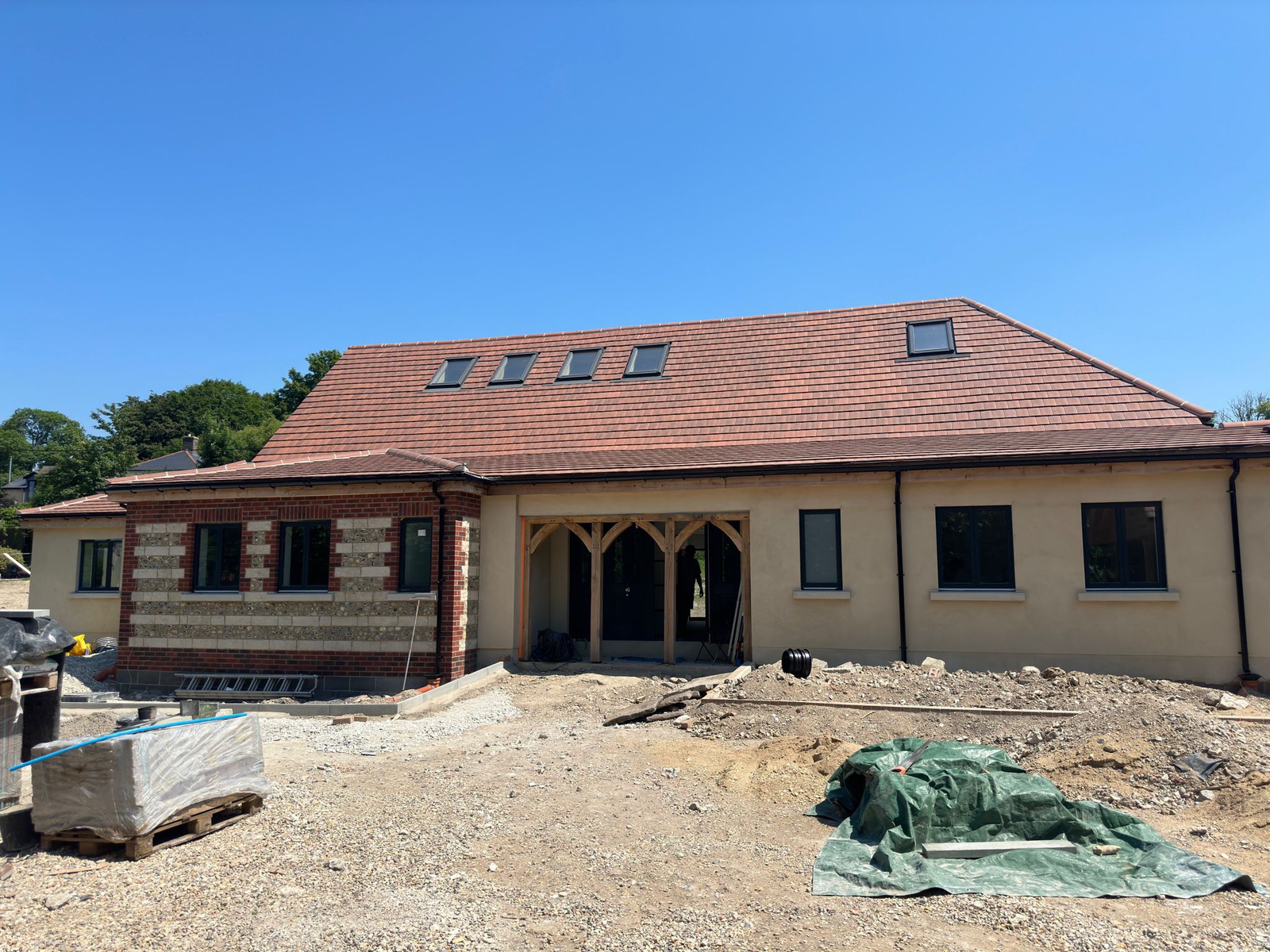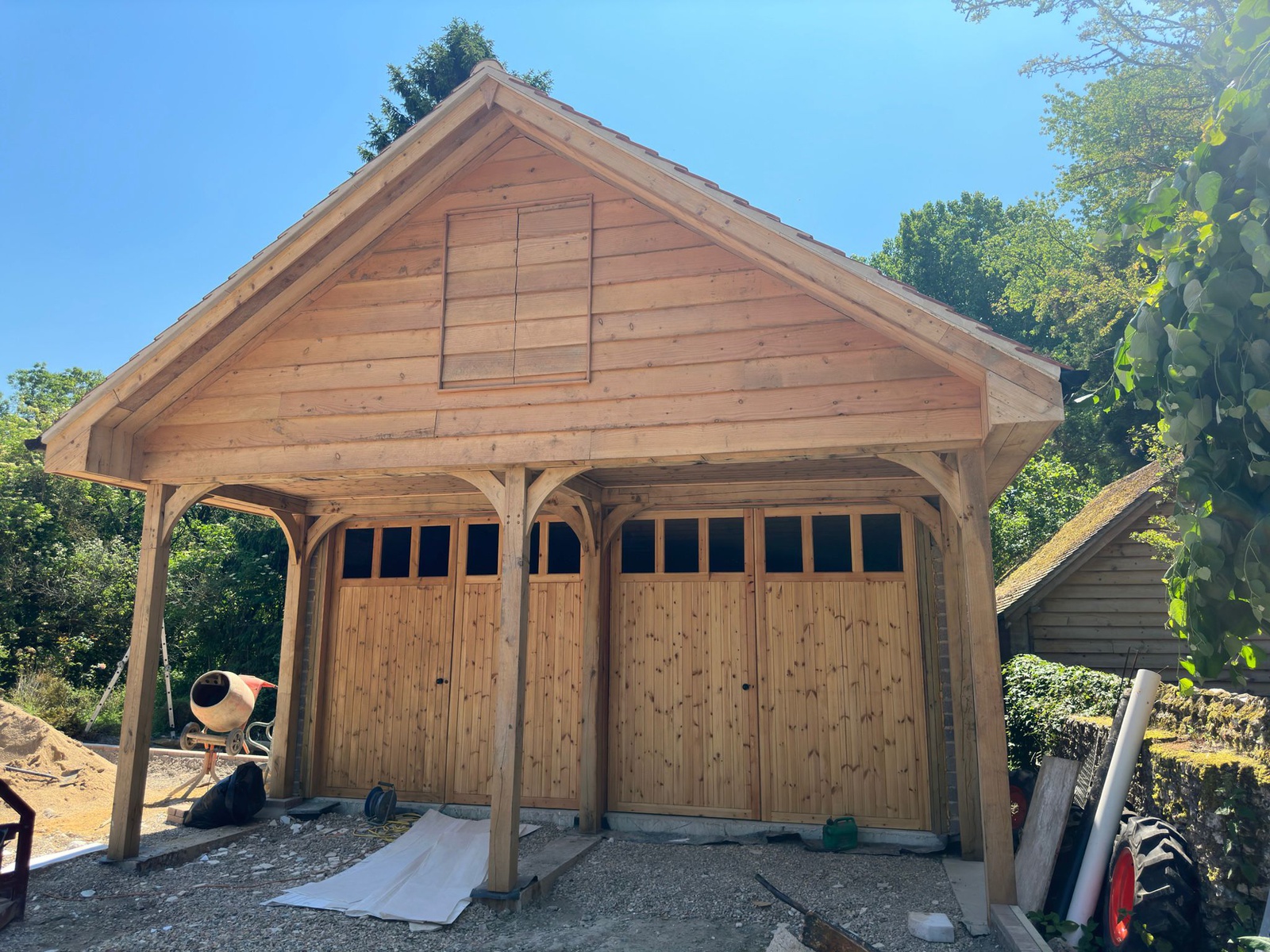 When other craftspeople step into the property, they're impressed by the work, said Huw. "The complexity and quality of the oak set a high standard, and all other tradespeople know they need to do their best to match it."
The finished home is an exceptional example of a barn renovation and reflects the investment of time, passion, and money. "We strived to achieve the best with this project, and we achieved it," said Huw.
How did he find the experience of working with Oakmasters? "Everyone involved has been a pleasure to work with. It's a unique building, and they have tried to do the best work with the highest quality materials," he said. "After engaging with competitors, I can confidently say that Oakmasters are the UK's number one business building bespoke oak structures."