Additional Features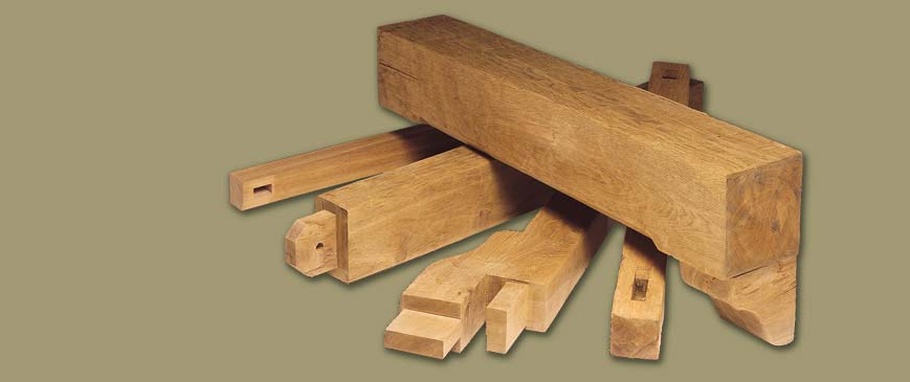 You can tell an Oakmasters oak frame just by looking at it. Our craftsmen pay meticulous attention to every detail and hand finish every exposed part of the each beam. Our hand wrought finish, which softens the beams and rids them of unsightly saw marks comes as standard, but in addition, you can request other hand finishes:
Joints
We use traditional jointing techniques in many of our projects, allowing two or more sections of oak to lock together.

There are various different styles of joint available. In most cases we use mortice and tenon joints. For any project that requires jointing of this type we add £25 per joint. Please note that the price of joints varies considerably (£15-£45) depending on size and type. If your project requires more complex work, such as scarf or dovetail joints, the prices may be higher.
Stop chamfers
These are a popular addition to many of our products. They can be carved to any length along a beam and can incorporate several variations of stop. A supplementary charge per chamfer is added for this service, subject to a minimum of £7.50 per chamfer.
Features for Fireplace Beams
Hand carved darts
Two symmetrical dart shaped sections can be carved into the front face of fireplace beams. A supplementary 30% is added for this service.




Pointed Arch with Darts
1.75m (5'9") Long 225mm x 175mm (9" x 7")
Additional Hand Carving
We can also provide additional carvings, such as crests, family emblems, or script. Prices for this service are subject to quotation.
Bressumer Back
Some fireplaces benefit from the installation of beams with Bressumer Backs. This simple but traditional feature has a 45˚ throat with tapered ends, which encourages hot air and smoke from an open fire to travel up your chimney and not into your room.  A supplementary 30% is added for this service. The rear face of the beam is cut away to encourage the flow of smoke up the chimney.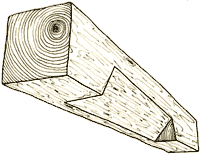 Mantelpieces
Accompanying accessories for Oakmasters' firebeams are prepared from kiln dried oak – a choice of joinery quality of character quality oak selected with knots and splits to add character.
Corbels
Our oak fire beams and mantelpieces are often supported by attractive wooden brackets known as corbels. These are made to order with countersunk holes for screw fixings, with oak grain plugs to conceal them. These plugs are sometimes left protruding slightly as a feature on the fire beam. A number of designs are shown below:





We offer a range of additional features with all of our oak products.