Stylish ideas for cosy oak fireplaces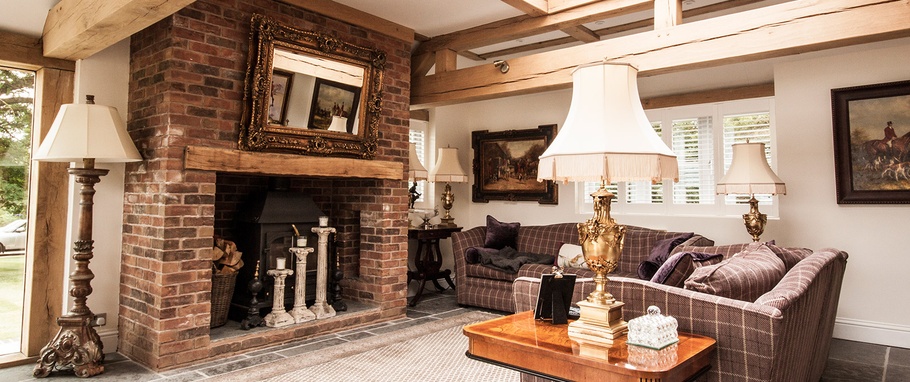 What better place to spend cosy evenings with family and friends, than next to a roaring fire? October is a good time to consider building or revamping your fireplace, in readiness for the cold winter months. Whether you like modern, or traditional, gas fires, wood burning stoves or fabulous open hearths, an oak fireplace beam will add a special touch of rustic luxury. Take inspiration from our pick of oak fireplace beams and mantles, which you could have in time for Christmas.
Rustic modern timber fireplaces
The key to a rustic modern style look is to choose an oak fireplace beam with straight profile and rather sharp angles.  Simplicity and light colour scheme are key to a contemporary look. See more ideas on contemporary oak fireplaces in our gallery.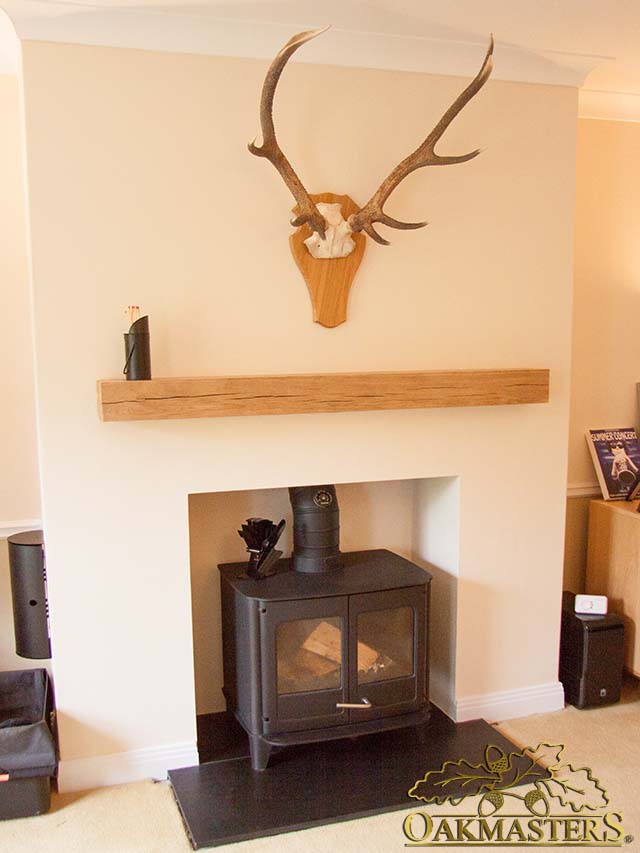 The owners of this lovely contemporary fireplace chose to build a straight oak fireplace beam directly into the wall. A plain white surround makes the oak beam stand out. You don't have to break down your existing fireplace though. You can achieve this look with a half size oak beam fixed onto the front of the wall.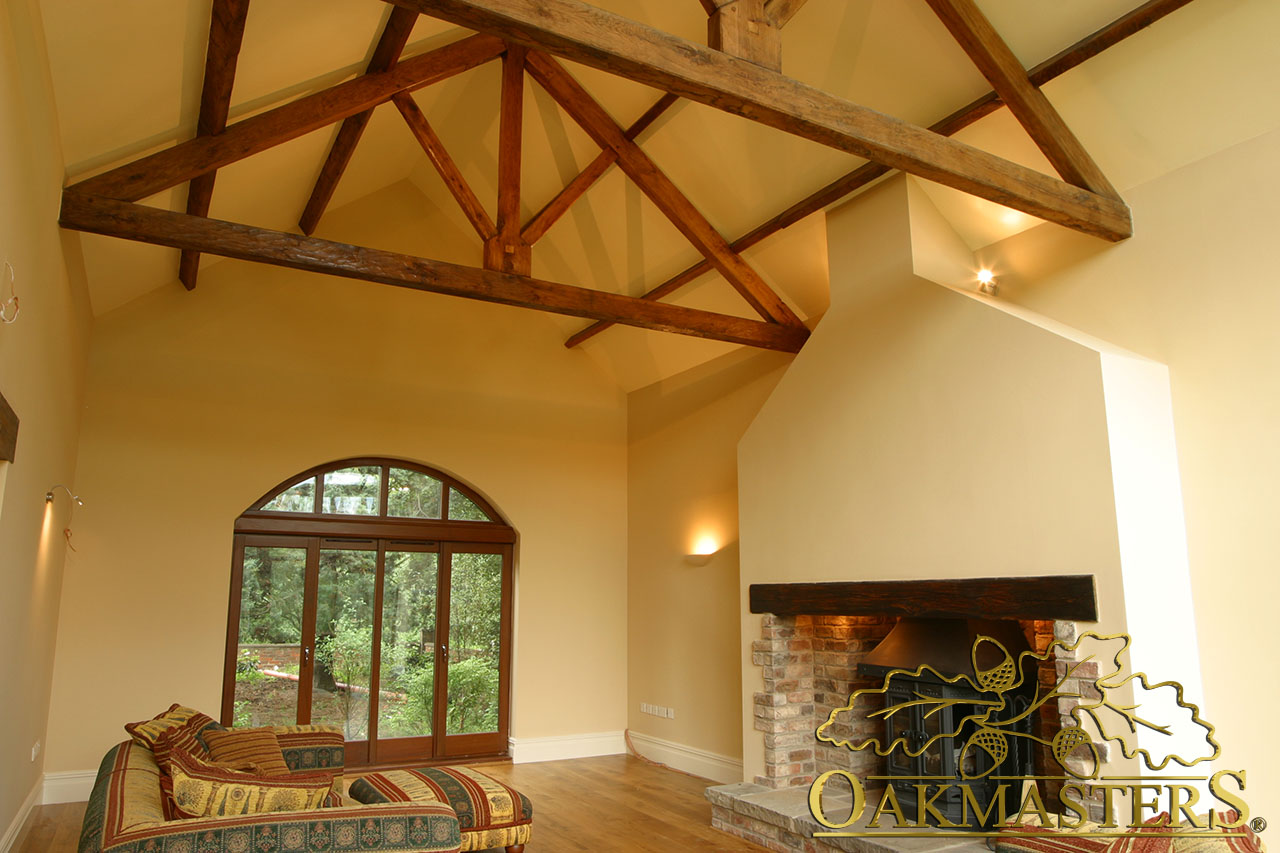 This big vaulted room offers plenty of opportunity to showcase a large modern fireplace. This one is completed with a slender, straight oak fireplace beam, which the owners stained dark to compliment the French doors.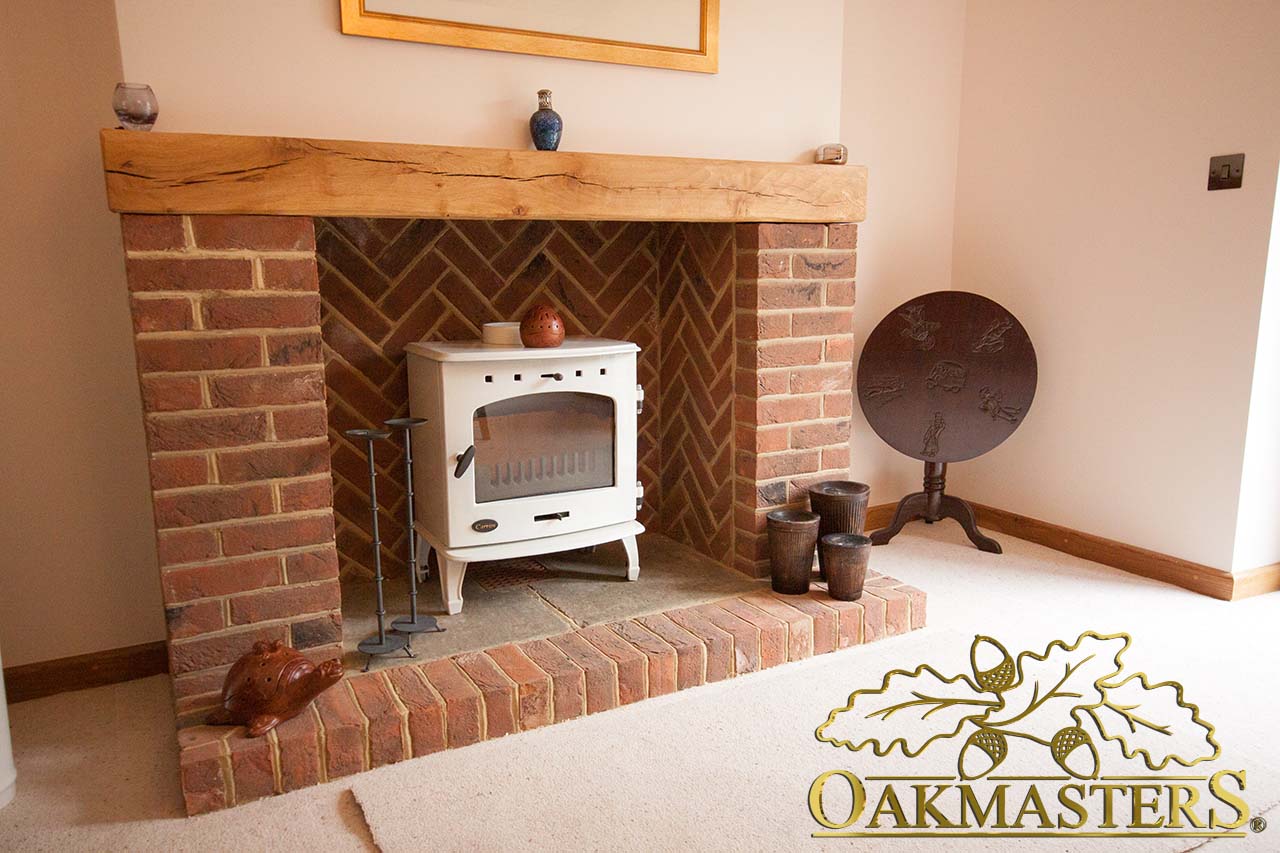 Contemporary look can also be achieved using bricks. In this case a straight oak fireplace beam sits atop traditionally laid brick hearth. The white wood burning stove really lightens up the scene.
Traditional oak fireplaces
Country house or traditional cottage looks are as popular as ever. The style tip here is chunky oak fireplace beam, with heavily adzed or worn edges, paired up with brick. We can also add our fumed finish, which darkens the oak beam to a medium brown colour, giving it a more lived-in look. For more ideas on traditional oak fireplaces and mantles, see our picture gallery.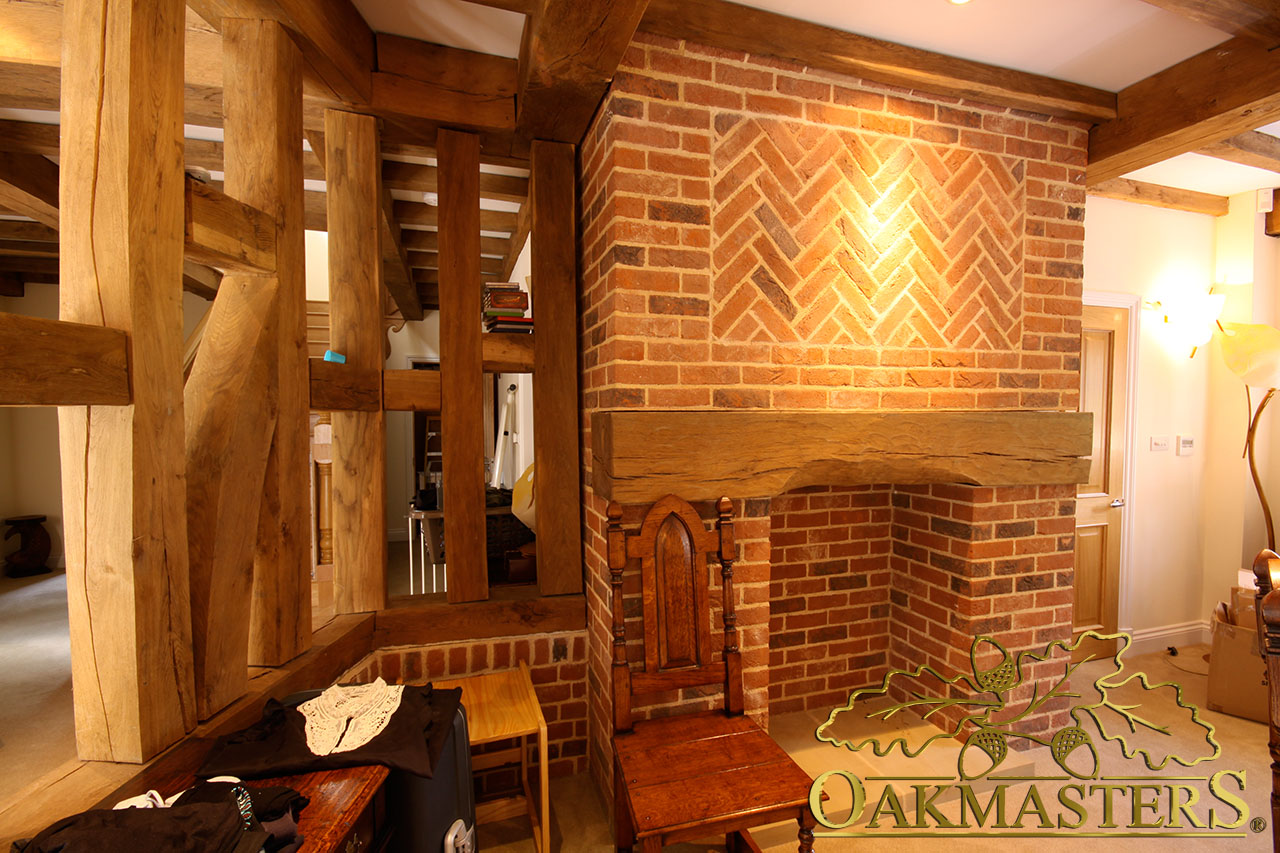 This cottage style open hearth features a very large oak fireplace beam with a worn-away front, built into the brick. It compliments the ceiling beams and the oak dividing wall.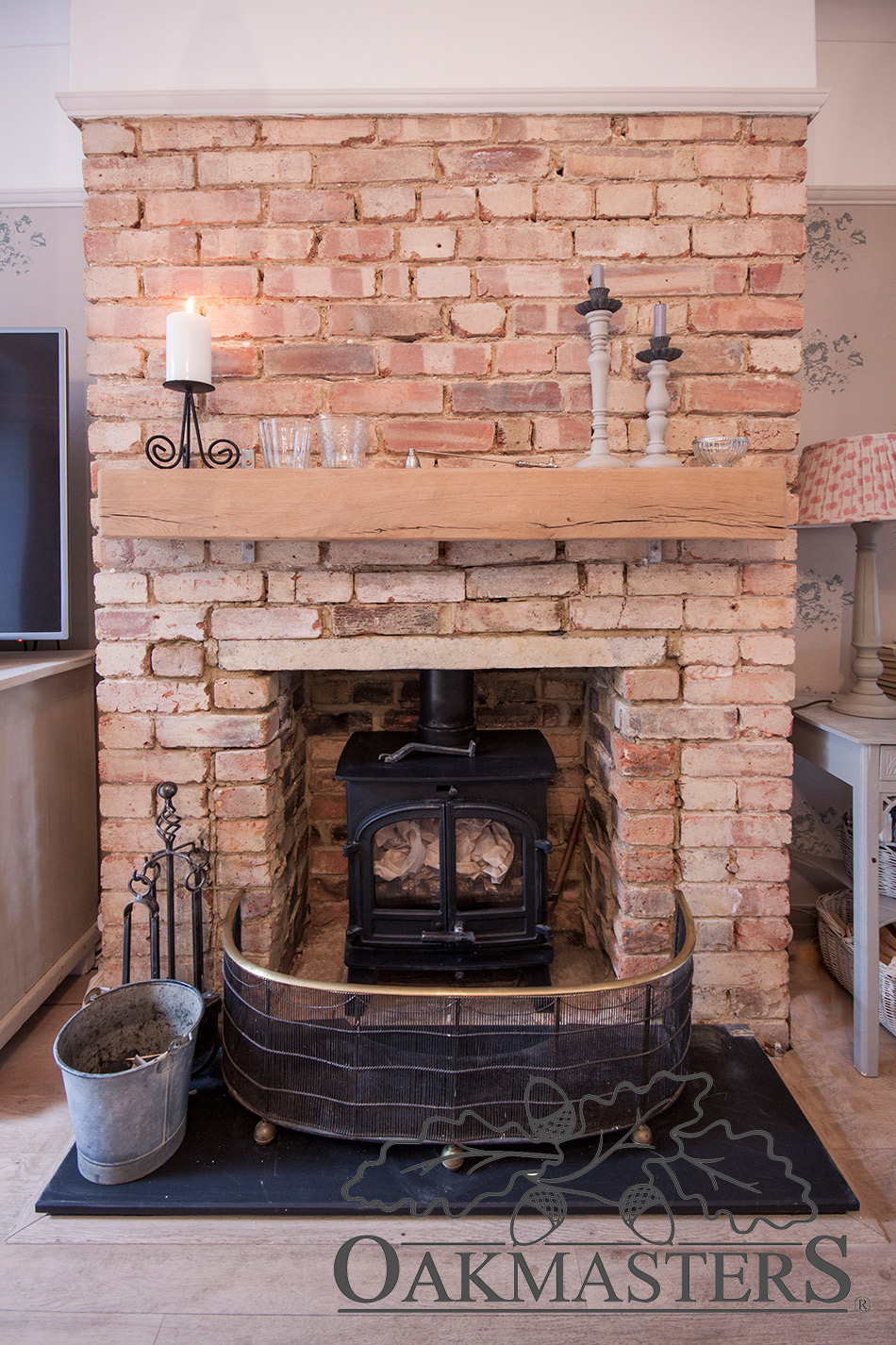 Above, this lovely rustic brick fireplace has an oak mantle mounted on the front. Simple and affordable, yet elegant solution, which can be achieved without cutting into the walls and creating unwanted mess.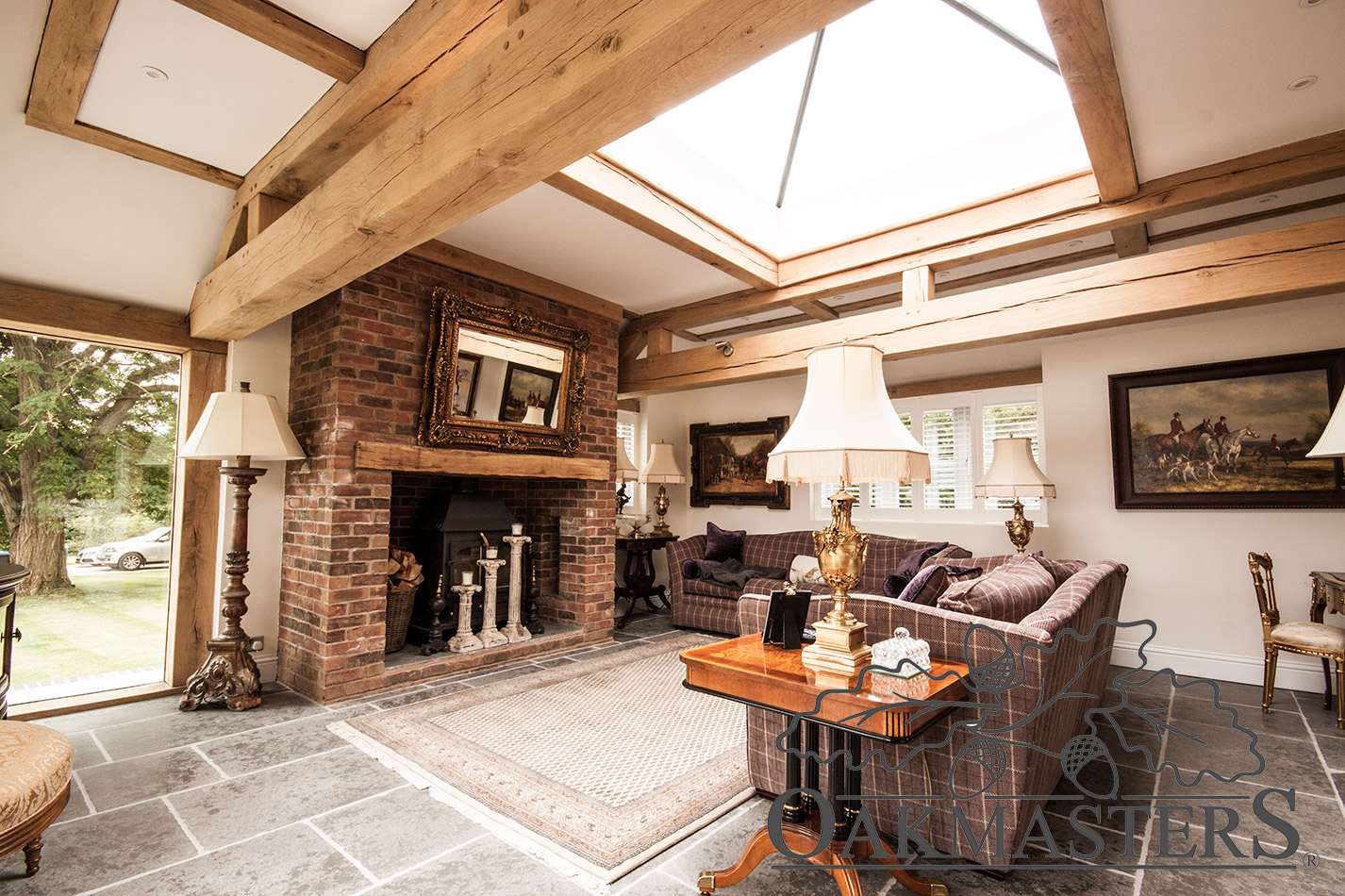 Super cosy extension featuring one of our oak fireplace beams built into a reclaimed brick fireplace surround. Just add a fluffy blanket and a glass of brandy.
Why not call us on 01444 455 455 to chat about an oak beam for your fireplace. Our team will be able to advise you on what is best for your specific project. Alternatively, download our oak fireplace beam price list and find further inspiration in our fireplace beams picture gallery. Follow our Pinterest fireplace beams board for more inspiration. Find out about our other oak frames and buildings.


Tags:
building with oak
fireplaces
help & advice
oak beams & components