From acorn to mighty oak – Help our beautiful oak trees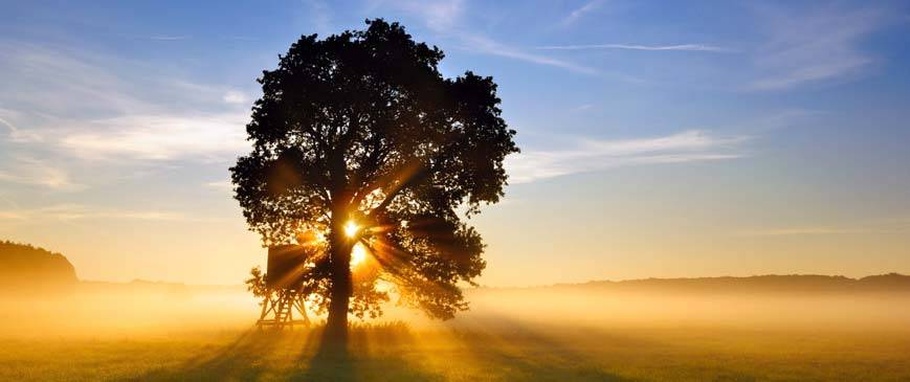 Did you know there are a handful of trees in the UK that have stood for thousands of years, living throughout history, even back to before William the Conqueror arrived in Britain? The oak is now England's national tree and symbolises strength and endurance. It fills some of our beautiful forests, towering up to 30 metres tall, from the well known and loved English Oak to the slender Sessile Oak.
The diverse uses of oak trees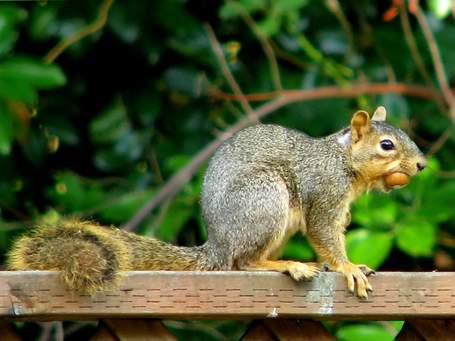 © Noël Zia Lee "Sometimes You Feel Like a Nut". Photo. Attribution 2.0 Generic
Oak trees have many different uses. Throughout history, oak was used as a popular material in the construction of ships, such as Henry VIII's Mary Rose warship in 1511. Today, oak is most commonly used in furniture, flooring, timber frame buildings and barrels for the storage of alcohol, where the flavours can infuse.
However oak trees are also important for many birds, mammals and insects, which use them as shelter, warmth and food. Oak woods are often home to wood mice, badgers, pipistrelle bats, deer, squirrels and much more.
We also can't forget that as well as its visual beauty, the oak also provides environmental benefits too, removing CO2 from the environment throughout its lifetime.
Why we need to protect the oak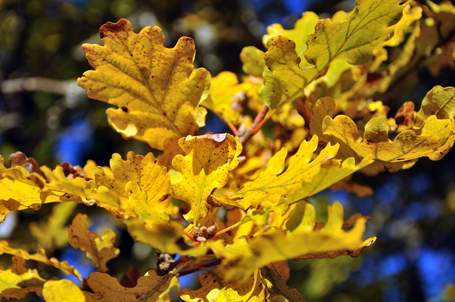 © Steve Slater "Oak leaves". Photo. Attribution 2.0 Generic
The UK is one of the least wooded places in Europe and is in desperate need for more trees to be planted. However, many species of oak are also under threat of extinction in the wild. This is due to a number of reasons, such as land use changes and increased consumption of acorns by livestock and other mammals.
At Oakmasters, we make sure we're not damaging the oak population, by sourcing our wood from sustainably managed forests. Each time a tree is cut down, one or more new oak trees is planted. We are committed to protecting our oak heritage and are members of FSC and PEFC, who help manage the world's forests, making sure they are being used responsibly.
How can you help the oak?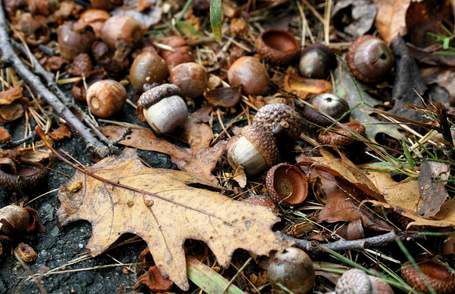 © Liz West "acorns". Photo. Attribution 2.0 Generic
Squirrels may be helping out by burying acorns throughout the autumn, but you can do your bit too. There are lots of schemes, including one run by the Woodland Trust, encouraging you to grow an oak tree to help protect their future.
However, you can also grow your own oak, right from an acorn and autumn is the perfect time of year to get started. Watch out for acorns just as they drop and take a look at this helpful guide here.
Make sure you plan a location with good drainage that is away from your house and outbuildings, as oak trees can grow very large, with roots 18 inches deep and around 4 – 7 times the size of the tree's crown. Then just be patient and watch it grow!
Explore the oaks around Britain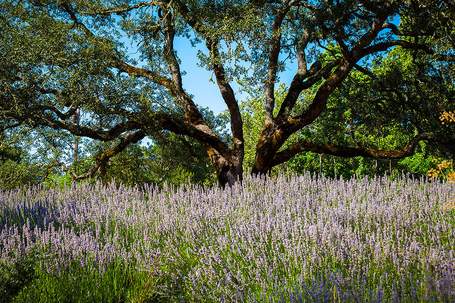 © Sonny Abesamis "Oak Tree". Photo. Attribution 2.0 Generic
With the autumn setting in, be inspired by getting outside and exploring the incredible oaks around the UK. Here are some of our favourites:
Bowthorpe Oak in Lincolnshire is thought to be over 1,000 years old and was featured in the Guinness Book of World Records.
Royal Oak in Shropshire was where King Charles II hid to escape the enemy during the Battle of Worcester in 1651.
Major Oak in Sherwood Forest, Nottinghamshire, is said to be where Robin Hood sheltered with this Merry Men.
The Old Man of Calke in the National Trust's Calke Abbey, is thought to be around 1,200 years old.
Have you tried growing your own oak tree or have you seen any beautiful oak trees near you? We'd love to hear your advice and see your oak pictures! Tweet us @Oakmasters, or message us on Facebook.