Oakmasters Finishes
Adzing
Straight sawn oak beams tend to look rather rough and ready, usually featuring saw marks, rough edges and splinters. We feel this can detract from the overall aesthetics of an oak frame structure or decorative installation. In fact it seems a shame to spend money on such an attractive, premium material without taking any care of the surface finish! 

Quality is of paramount importance to us at Oakmasters so, unless otherwise requested, all of our oak products are given a light 'hand-wrought' or 'adzed' surface finish to remove any imperfections. Our craftsmen use a simple, but highly effective tool on all the exposed surfaces to remove saw marks and smooth the edges.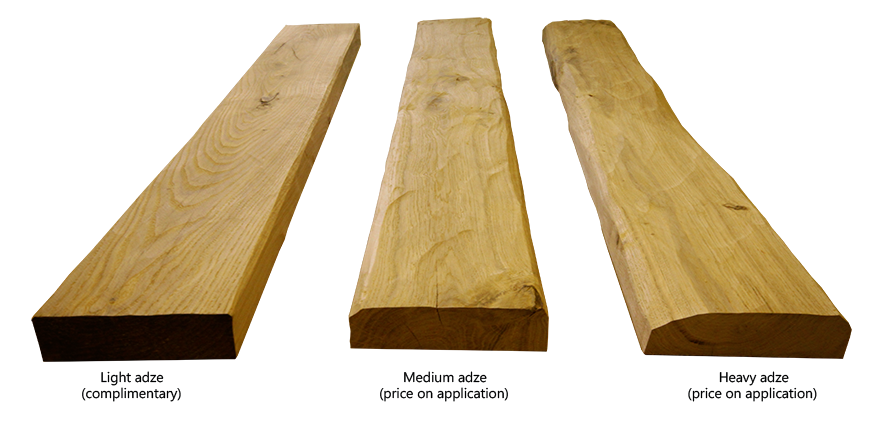 All our oakwork comes with our light adze or hand wrought finish, suitable for most structures. The surface is smooth and the edges are slightly taken off. It works particularly well when combining oak with modern materials such as glass, concrete or render, but will also work in older properties. Light adze is a complimentary process, at no extra charge.
Medium adze or hand wrought finish gives the surface of each oak beam a rippled finish and the edges are considerably  more rounded. It is perfect when you are looking for classic, timeless look. This finish works in combination with most materials, including glass, render, brick, stone or cladding. Due to the amount of labour involved, Medium adze finish incurs an additional charge, which depends on the size of the project. Talk to our sales advisers to get an idea of cost.
Our heavy adze or hand wrought finish is suitable for achieving the traditional look. With its heavily undulated edges and rippled surfaces, this finish is ideal for cottages and listed properties and works well in combination with stone, brick, render and wood cladding. Due to the amount of labour involved in this process, heavy adzed finish will be changed extra. Price depends on the amount of oak treated. Please talk to our sales advisers about the price.
Does oak need to be treated?
Oak is one of the most durable and naturally defensive materials you will find. Essentially it is maintenance-free. There are treatments such as Sikkens or wax oils you can use to maintain the original colour. It is, however a labour of love and requires ongoing commitment and regular maintenance. We recommend following manufacturers' instructions for each type of product. If you allow the oak to go silver naturally, then it is maintenance free.
Moisture content in oak
Green oak
We use green oak for most framing applications. It is recently fresh from the tree. Often up to a year old depending on the season, as it is preferable to fell oak at certain times of the year. Green oak has a high moisture content and it is normal and expected that the oak will shrink and move in the first few years of its life, and natural splits known as shakes will form over time. See Green Oak in Eco-building for more information.
Air drying
We use air dried oak in various applications like external cladding or glazing capping. Air dried oak is ideal for use in situations where the wood needs to be seasoned in order to fit its environment. Air dried oak is left in naturally ventilated drying sheds for long periods of time to allow the moisture content to reduce down to a stable level. This process is usually only used for plank shaped sections of oak as it takes many years for thicker pieces to dry. Some less scrupulous players in the market pass off thicker pieces of oak for air dried after only a few months of drying, but this should not be trusted. We usually work to a rule of 1 year per inch thickness plus a year to dry down to a stable 20% moisture content. 
Kiln drying
We only use kiln dried oak in our more precise joinery products such as specialist beam casings or oak beam covers. As green oak dries out over a number of years in a natural environment cracks and splits can sometimes occur in the surface. This is fine for an oak frame building however movement like this is not preferable in joinery products which require high levels of precision. The use of a kiln speeds up the drying period in a controlled environment, which is useful for products like beam casings as it prevents natural warping or splitting which would pull the tightly crafted joints apart. The production of kiln dried oak is of course more energy and time intensive and therefore it increases the end cost of the product.